Twitter and Snapchat Battling for Advertisers?
Snapchat and Twitter have been making some big changes to their apps lately, some you probably haven't even noticed.
Twitter, the long known "140 characters or less" is offering you a little leg room in your tweets. Now the mobile app allows users to upload 30 second videos to their tweets.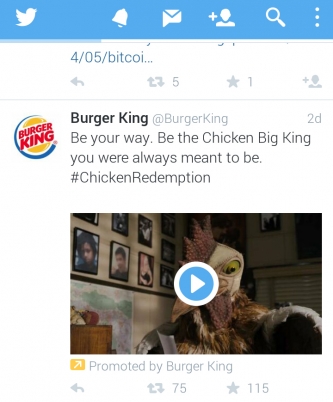 Twitter states it is a tool for users to be able to increase one's followers because tweets with media are more likely to get engagement. I predict this is Twitter's next step in allowing advertisers to be able to utilize the social media platform. If companies are able to upload short advertisements this could potentially change the simplistic, "real people behind the twitter handle" feeling. Because even today companies who have twitter accounts generally use it for communication purposes of promotions or dealing with customer complaints. The possibility to upload a video opens many doors to advertisers.
Snapchat, the time-limited photo/video sending app has added a new feature that is neither social nor about messaging. The new feature allows you to see featured news or articles from CNN, MTV, Cosmopolitan, the Daily Mail, bleacher report, food network, National Geographic, People, Vice, Yahoo, Fusion and last but not least Snapchat.
I like the idea, it's an interesting way to communicate to users. However, it does't correlate too closely with the idea of the app itself. This new feature leaves one to wonder where the app is headed. Is snapchat going to turn into a news platform? a dating app (discover people around you next)? The discover feature could be testing the waters for what route could be most successful in the future.
What do you think of Twitter and Snapchat's newly added features? Where do you think both companies are headed?